Checklist for Business Registration
A Name Is Very Important To A Business Entity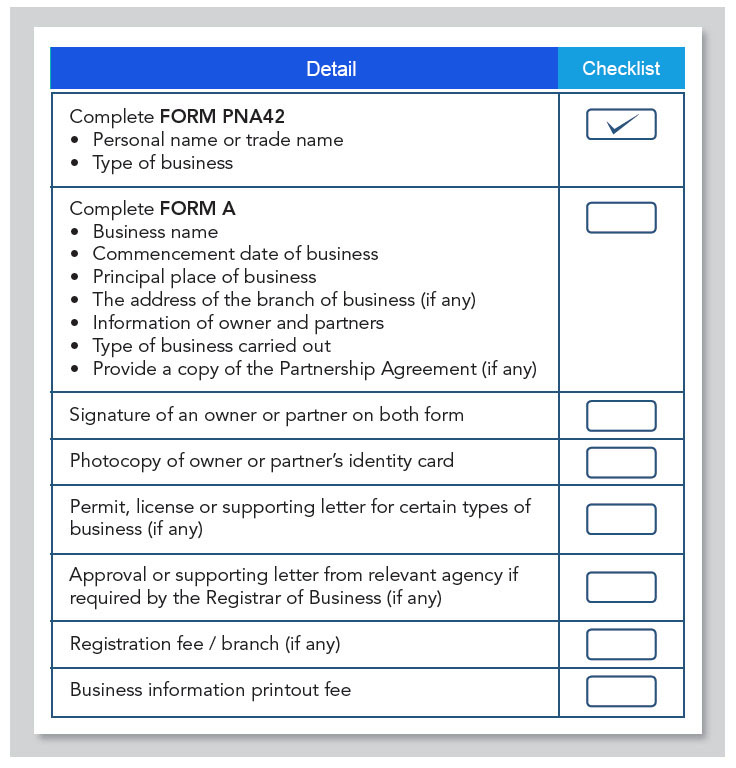 Registration Of Private Limited Company
The first step is the lodgement of name search application to SSM for approval of using the chosen name in your new company. Payment of an RM30 fee for each name applies. Once approved, the company name will be reserved for you for a period of 3 months.
Incorporation documents below must be submitted to SSM within 3 months from the date of approval of the company's name by SSM, failure of which a fresh application for a name search must be done.

Memorandum and Article of Association (MAA) – original copy of each be stamped at RM100. Stamps are affixed to the Inland Revenue Board's stamp office.
Form 48A (Statutory Declaration by a director or promoter before the appointment) that he / she is not a bankrupt and has not been convicted and imprisoned for any prescribed offenses.
Form 6 (Declaration of Compliance) – states that all the requirements of the Companies Act (CA) have been complied with and signed by the company secretary (named in MAA).
Original copy of Form 13A.
A copy of the letter from SSM approving the name of the company.
A copy of the identity card of each director and company secretary.

Minimum registration fees are RM1,000 for authorized share capital of up to RM400,000.
A Certificate of Incorporation will be issued by SSM upon compliance with the incorporation procedures and submission of the duly completed Incorporation Documents.
Note: Please refer to online guides at https://www.ssm.com.my/Pages/Legal_Framework/GUIDELINES/4.-Guidelines-For-Incorporation-Of-A-Local-Company.pdf 
Registration Of Limited Liability Partnership (LLP)
LLP is an alternative business vehicle regulated under the LLP Act 2012 which combines the characteristics of a company and a conventional partnership. LLP offers advantages similar to a private limited company (Sdn Bhd) such as limited liability, perpetual legal existence but cheaper compliance costs due to less statutory compliance – not compulsory to have audited accounts & appoint qualified Company Secretary.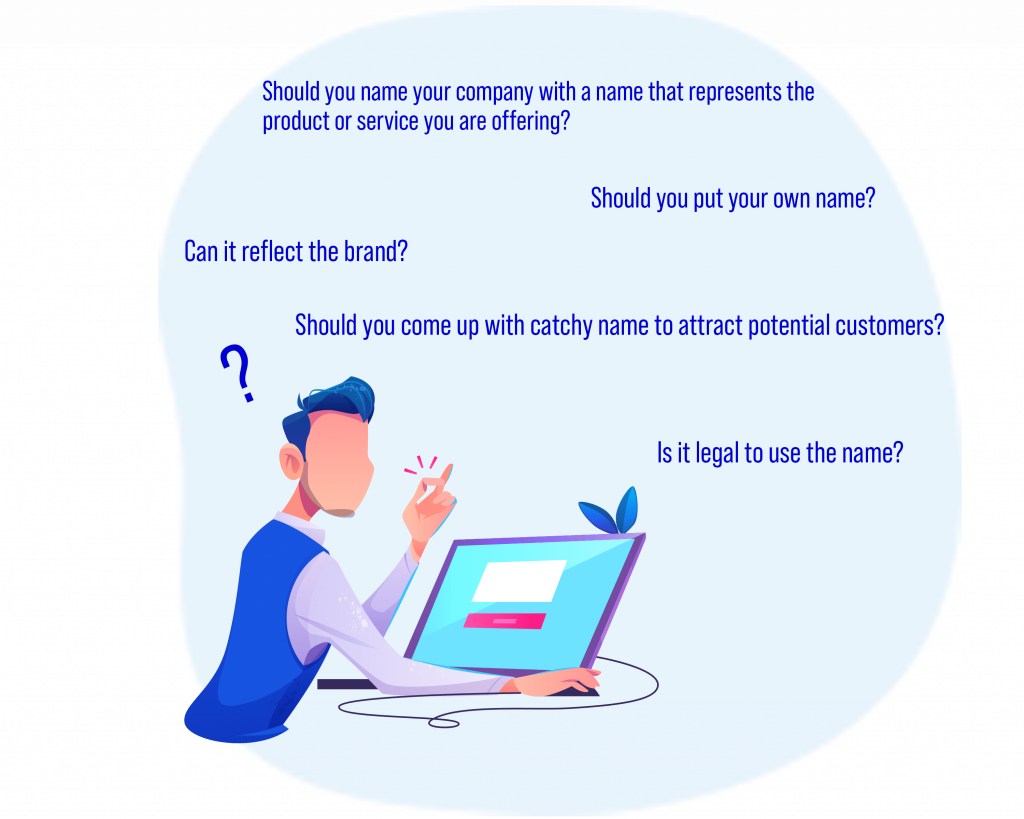 A name is very important to a business entity, not only as it defines your product or service identity, but also serves as a magnet for customers to recognize and pull them to you. Your business name can be simple or lengthy and dramatic depending on your preference.
However, note that if the name defines the identity of your company, it is advisable to avoid names that carry negative connotation or illegal. There are two types of business name categorization that you can choose from i.e. personal name or trade name.
Check Your New Company Name With SSM Online System Before Registering Your Company!
Visit to www.ssm-einfo.my
Click on the icon stating "Register as e-Account Member!"
Fill in the "e-Registration Form", then submit.
You will receive a message "Please login now"
Log in with your username & password.
Once successful login, click on the icon "Search"
Enter your desired company name in the box "By Name".
DONE! Name search result from SSM will be displayed!
With the above company name search results from SSM registry system, you will now have a better idea on whether someone is using the same or similar name to the one you plan to have for your new company.
Some Tips:
A business name should not be too long that is not more than 50 characters including spaces between words.
Use of numbers, sign and symbols are not allowed as part of a business name.
Gazette words under Government Gazette No. 716 dated 30 January 1997, Gazette Amendments of 2001 and the names that administratively controlled under the Companies Act, 1965 will also be considered as controlled by a business name. Government Gazette and Guidelines on Company Name can be viewed in the SSM's website at www.ssm.com.my
Business name registered must be in accordance with the type of business.
The business name registered cannot be altered or changed once the business is registered.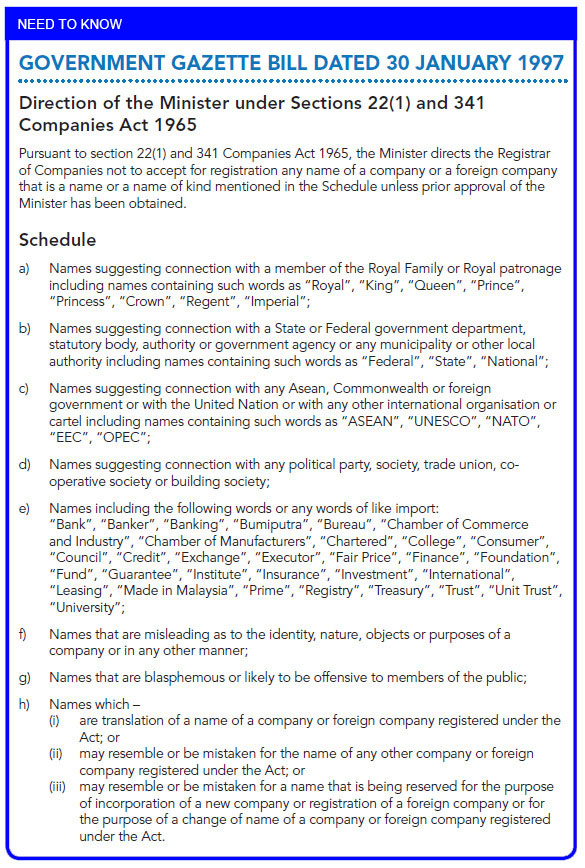 Sample Of Completed Form PNA 42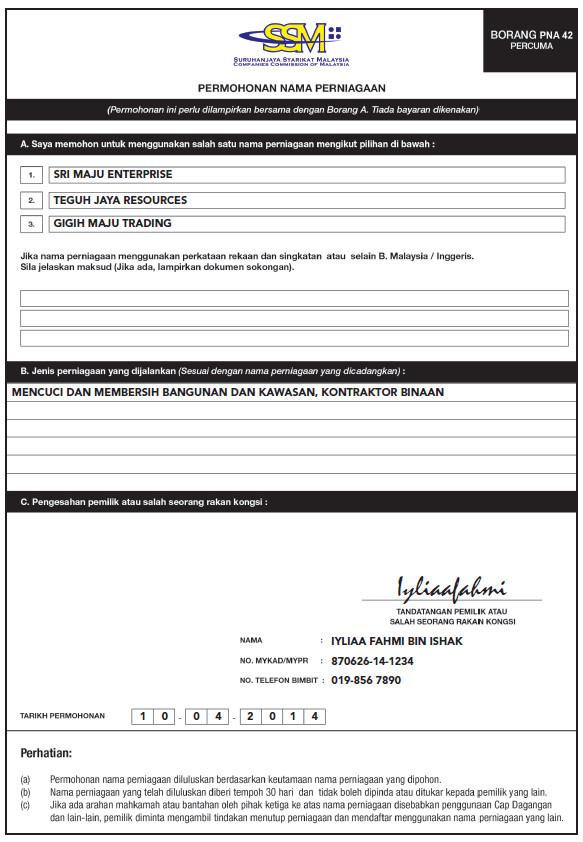 Sample Of Completed Form A (Page 1)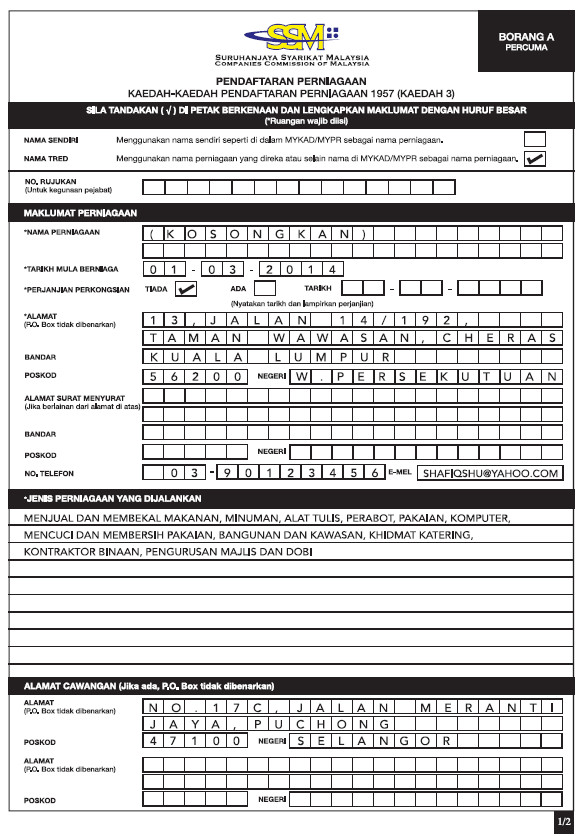 Sample Of Completed Form A (Page 2)